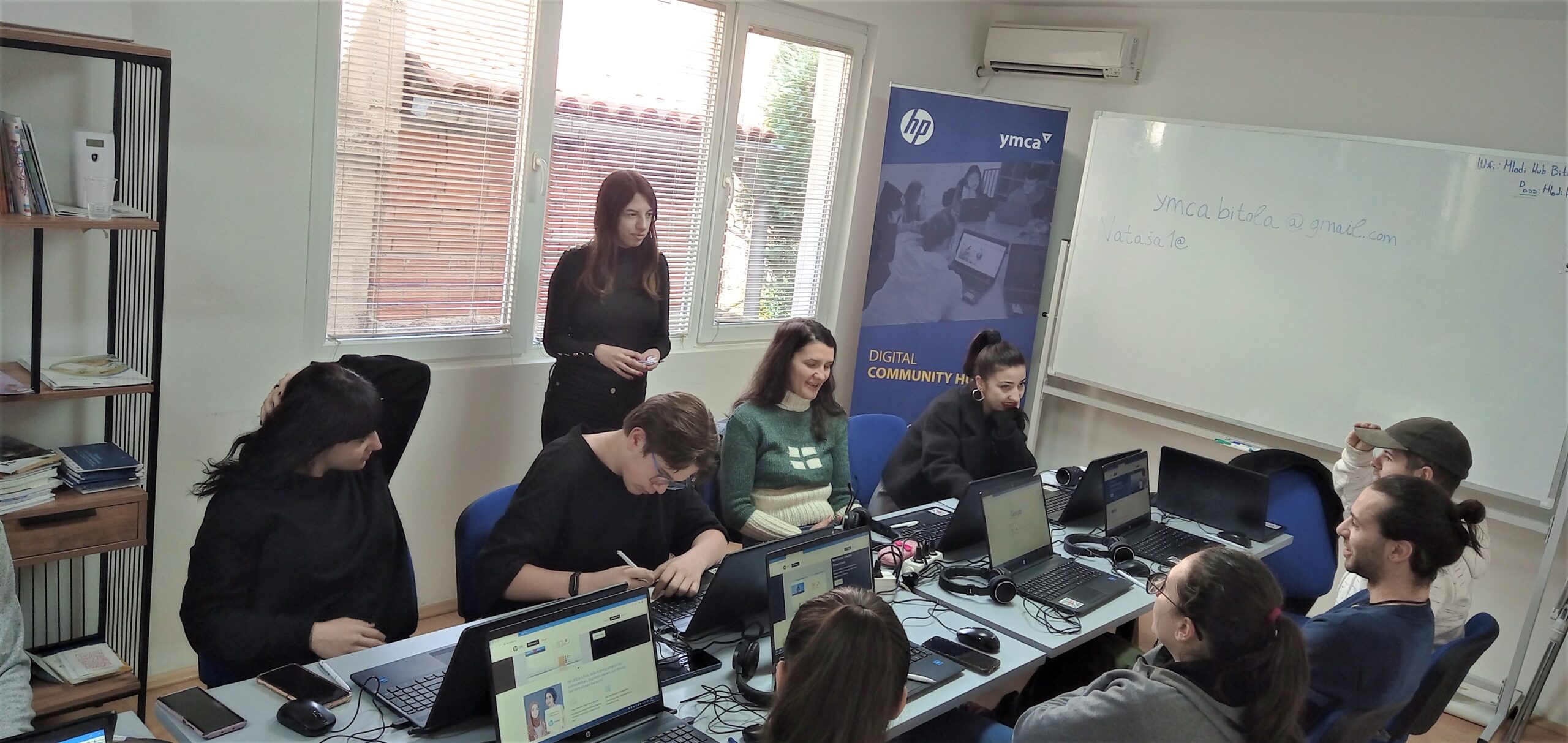 Martha
I am Marta from Krushevo, I am currently studying in Bitola. I found out about the courses through Natasha from the YMCA because we know each other from before. Today I attended the fifth course and in the future, I plan to attend several more courses. The courses are interesting to follow, and the atmosphere in the Youth Center is harmonious and pleasant. I plan to use the courses that I have followed so far and the experience I have gained from them for my career and development.
Antim
I am Antim Atanasoski, 18 years old from Bitola. I feel honored to participate in four courses made by HP and implemented in cooperation with the YMCA. One of the courses that I liked the most was Social Entrepreneurship, which was very practical and informative, unlike other courses of this type that I have visited online. What you learn from the course can be used practically every day of your life. Of course, I plan to visit other courses in the future, because there is a lot to learn from each course.
Ljupco
First I want to say that digital education is not just about new skills, it is most important to think about growth and embrace quality improvement. I am Ljupco from Bitola, I found out about the courses through the YMCA where I am a volunteer and have participated in many events and workshops organized by them. I just saw the application on social networks and immediately signed up without thinking if it would be interesting or if it would be useful to me, and to be honest I did not make a mistake! I attended five different courses in the categories of communications and marketing, as the most suitable subjects for me. I believe that every young person should study these courses, which will be very useful in life, in everyday life and the job search. I am currently working abroad, but after my return to Bitola, I will apply again for the courses, especially for the topics of innovation. YMCA and HP thank you for this opportunity you have given me, see you again soon!
Elena
Being employed and being a parent at the same time is much more difficult than it seems, I am Elena Ivanov, 28 years old, from Bitola. I have been in the YMCA for several years with short breaks. My job position is office manager. In the past years, we worked on non-formal education and organized summer camps, but after the great pandemic that happened, I can say that the HP courses are the best thing that happened at the YMCA. In addition to my daily duties, I still had the opportunity to take several courses on the subject of communications, which is what attracts me the most and I would like to share with you that the Business e-mail and Business Communication courses are courses you must attend. The courses are not long, the maximum time you will need is 1 hour. I would be very happy if you decide to attend these courses of the HP life program and of course, I want to thank HP and the YMCA for this great opportunity of free courses in our city.
Philip
Hello, my name is Filip Bozinovski and I am 17 years old. I want to say that I have completed all the courses of the HP Life project and I can say that I am quite satisfied. I learned about the HP Life courses from my high school "Josip Broz-Tito" from Bitola. Through these courses, I have acquired quite useful and good skills that I find myself in in the future. I desire to further study at a university whose task is to acquaint us with skills that use technology and help humanity. The courses are easy, short, entirely online, and above all, free. I would personally recommend these courses to all my friends and acquaintances as a starting point for acquiring useful computer skills that can help everyone, especially young people who are interested in starting their own business or upgrading their computer skills. Now, I have finished my last course, and as my favorites, I can single out the communication courses, as well as the Success Mindset course. I thank the YMCA as well as the HP because they provide conditions for a quick way of learning useful skills.
Jana
From my experience so far, I only know that digital education opens up a world of possibilities for me. My name is Jana, I live and study in France. I have a very busy schedule and I am very happy that I am in the right place at the moment where I have access to high-quality courses that help me to keep up with the latest trends in my 3D printing industry, all thanks to YMCA and HP courses. I had the opportunity to choose whether I wanted to listen to the course in English or French. I chose French, which is really of great importance to me. The courses are easy to understand, they are not long and the most important thing is that I also received a certificate for completing the course, and all for free! Guys, I hope that you will manage to find at least one hour a week and dedicate it only for you and you will improve yourself above all as individuals. YMCA and HP, thank you for the opportunity you gave me, see you again that is for sure!
Read below to learn more about this project