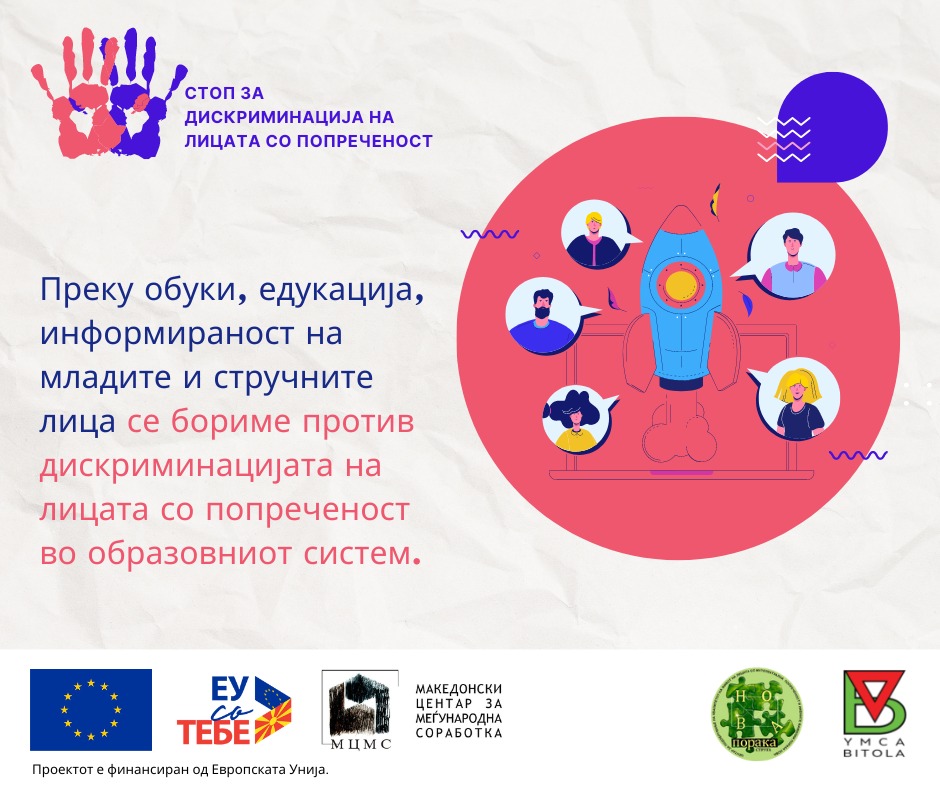 In partnership with Poraka Nova we have started a 7 months long campaign (from February until August 2023) against discrimination of people with disabilities. This project is focused on raising awareness about this discrimination (the existence, recognition and prevention of discrimination) in schools among pupils and the school's professional services, as well as promoting the legal procedures in case of reporting discrimination to authorities. The legal procedures are made available and promoted through The Commission on Prevention and Protection against Discrimination (CPPD).
The goal of the project "Stop discrimination against persons with disabilities" is to raise awareness of the existence of discrimination against persons with disabilities in all spheres of life in our society, as well as to point out to specific groups of people in Bitola the existence of legal regulations that help to sanction, prevent and reduce it in the future. Those groups of people are students in secondary and primary education, educational assistants and professional services in schools.
This program will bring much-needed awareness against discrimination to school pupils through peer-to-peer education as a methodology. This project fits into our strategic priorities to work with youth on non-formal educational programs and focus on peer-to-peer methods. The topic fully aligns with our mission and the values we promote. In this project, we will work with youth and with school professionals working with these vulnerable categories of young people.
Raising awareness of non-discrimination towards persons with disabilities includes:
A series of workshops and information for young people and professionals in 6 schools in Bitola. It is a process that will last several months and will address not only students but also those who help people with disabilities the most, namely educational assistants and professional services in schools. In doing so, a group of students will be selected to undergo peer education training, after which they will share their knowledge and experiences from the training with their classmates.
Additional workshops and presentations are also planned for educational assistants and professional services in schools. This part will also include representatives from the Commission for the Protection and Prevention of Discrimination from Skopje, who will help in a better understand of the legal regulations on this issue.
At the same time, an online campaign will be conducted on social networks to raise awareness of non-discrimination of persons with disabilities, which will involve sharing various types of information, texts and excerpts from legal decrees that touch on this topic.
This is a project supported through small grants from the anti-discrimination program of the Macedonian Center for International Cooperation – MCMS, financed by the European Union, and implemented by Poraka Nova and YMCA as partners.
Follow our Facebook page for updates on the project activities!