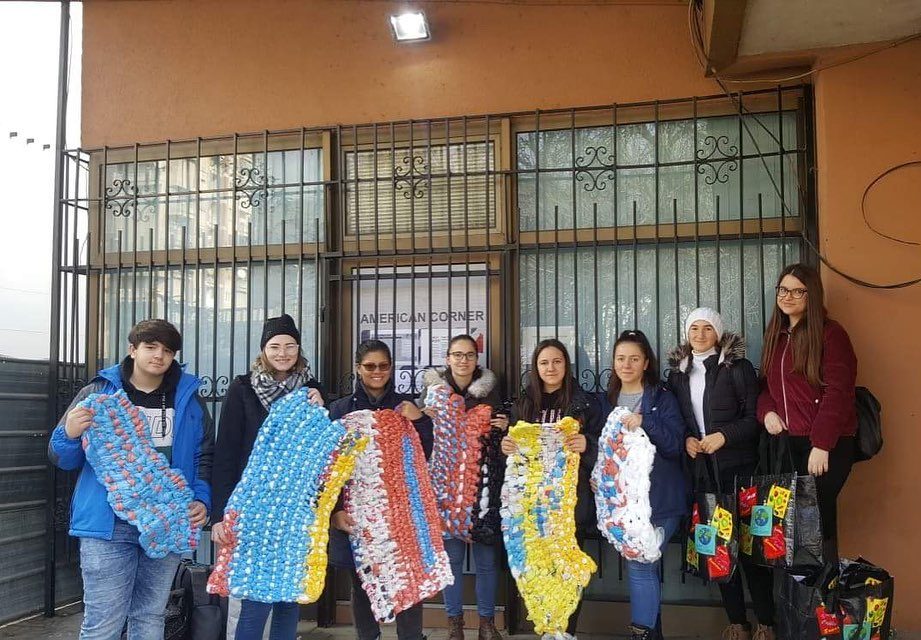 The GLOW and YMLP Youth Fund by YMCA provides opportunities for GLOW&YMLP Clubs throughout the country to implement skills they've learned in service project design and management by writing a grant and implementing a project to improve their community. In this years round of grant applications, 10 clubs were awarded the grant based on their project proposals, written by youth leaders, in the areas of environment, civic engagement and arts.
GLOW & YMLP Club Bitola had divided their service project in two parts, before and after the new year period. In the first part they did literacy workshop on the subject "Reduce hate speech in the community" adapted to primary school kids, with aspects of improving the sense of 'belonging' among the youth in the special needs communities. This was done in the Primary School "Kliment Ohridski" in Bitola. In the second part, "Diversity and Inclusion" will be included, it will introduce kids to diverse communities, especially with the special needs community, since this project will be mounting bird houses in the park around the school for kids with special needs in Bitola.
GLOW & YMLP Club Delchevo did something similar bringing awareness about the discrimination against people with special needs in their community.
GLOW and YMLP Club Gevgelija identified couple of issues in their community – the absence of a recycling program and the abundance of litter on the streets. They did a clothing and food drive outside of the theater house in their community!
GLOW and YMLP Clubs Gostivar completed their service project by providing some community members and families in Gostivar who are struggling with supplies, to acquire nutritious food. Furthermore, since winter is coming, some families may find it more difficult to acquire food.
GLOW and YMLP Club Kochani held their service project having in mind the bad situation of the families which are financially unstable especially in the winter time. They made blankets for families in need in the community, as well as donating clothes to the Red Cross.
GLOW and YMLP Club Resen had their service project making the chemistry classroom more interesting for the students. A wall in that classroom was empty and it needed something that would make studying chemistry a little more interesting for everybody, so painting a periodic table mural made the classroom more interesting.
GLOW and YMLP Club Shtip spend their service project with students with special needs and made them feel included and noticed. They tried to break down stereotypes surrounding these issues, but also spread positivity in this melancholic year period of gloomy weather in our city.
GLOW & YMLP Club Skopje had their service project also with the theme of inclusion and awareness of youth with special needs. They spend the afternoon with the students at the special needs school and started the process of building relationships with them. They did several holiday themed arts and crafts projects together with the special needs residents of that schools.
GLOW & YMLP Club Sveti Nikole had their service project resolving issues around English language learning. There are kids who don't have the resources to practice English enough. They don't get the chance to practice it out of the school classrooms.
GLOW & YMLP Club Tetovo conducted a needs assessment for our community and determined that a prevalent problem that they can actually impact with our given resources is the lack of winter clothing available for less privileged members of our community, especially those that we often see sitting outside at intersections even in the coldest months.
They made scarves and recycled plastic bags into reusable sitting mats, and finally they went out into the community and gave out gift bags with hats, scarves, gloves, and sitting mats to those in need!
We want to especially thank our corporate partners and donors: we want to especially thank our donors: Mermeren Kombinat, OKTA, SASA Mine, TAV Airports, Alkaloid and Kromberg & Schubert, ESM, EED, Horus as well as individual donors for providing the monetary donations to make these service projects possible, as well as individual donors for providing the monetary donations to make this activities possible.
Photo gallery of all events, here.